Welcome to Rockability Vocal Studio.
We offer voice tuition and production services – specialising in Rock, Pop, Musical Theatre and all Contemporary singing styles, as well as entertainment consulting.
Rockability caters for bands, duos, solo artists and beginners;
as a beginner just starting out
whether you sing as a pastime or as a career,
whether you're trying to break into the music industry
or you're already an established artist wanting to refine your craft
Rockability always aims to take you to the next level in a comfortable and relaxed environment – even famous, successful singers have problems and need fine tuning!
So don't hesitate to phone us and participate in the Rockability experience!
It's a fantastic opportunity to work with qualified professionals, keen to bring out your talent with a personalised and supportive approach.
TEACHER PROFILE – KATHERINE DOLPHIN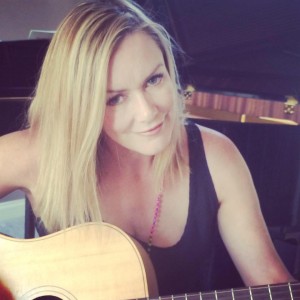 Katherine has a love of teaching voice, from her first year out of university she has enjoyed every moment of watching her students grow and develop their voice and confidence. Katherine's friendly demeanor helps her connect with students of any level in a comfortable environment.
Katherine has been the senior coach and director of Rockability for over 14 years and teaching singing for over 20 years. Katherine has sung in many bands and duos around Australia and loves performing, song writing and recording.
Katherine completed her Music degree in 1993 at The Melba Conservatorium of Music, majoring in Voice & Piano, here Katherine studied under the prestigious Mary Campbell scholarship. After this degree, Katherine also obtained a Rock Musicianship through Ausmusic. In 1999 Katherine studied at Melbourne University and received her Certificate in Training.  Katherine has trained in many genres including opera, jazz, rock, RnB and musical theatre.
Katherine loves diversity in music styles, she has worked consistently on her own voice over the years to learn many styles of singing to develop the technical knowledge to help facilitate others in their chosen genre.
Katherine's training in Speech Level Singing led her to become interested in all styles of methods for teaching. Aware that singing tuition was evolving and progressing rapidly overseas, Katherine made the decision in 2008 to travel to America and the U.K  to further her studies and bring home new techniques and methods that could only benefit her students back home in Australia.
With her many trips abroad to further her own singing and teaching methods, Katherine was inspired by the teachings of prominent professionals such as Sigg Riggs (L.A), Brett Manning (Tennessee) and Melissa Cross (NYC).
Katherine's primary objective is to learn and explore a variety of techniques and teaching methods, all with one aim in mind – to create amazing and unique voices.
Katherine realises you need many resources and training to be a competent and capable teacher as you are constantly working on all types of vocal issues. Katherine regularly attends vocal conferences and seminars to stay up-to-date with her vocal knowledge and the latest pedagogy.
Katherine's niche of contemporary/rock/pop tuition and developing chest voice has not gone unnoticed within the Australian music industry, having worked alongside top level artists and music producers.
Katherine is frequently asked to be in the recording studio when vocals are being done; to check the overall production, harmonies, and often even to sing background vocals on her clients recordings. Her expertise is also sought for recommendations such as doubling and compressing a vocal, and adding the final effects to a recorded voice. In addition producers often requested that Katherine work with a band or artist leading up to a recording.
An 8 week stint together would ensure the recording of voices to be much more developed and strong requiring less takes in the studio.  An efficient and sound recording process not only saves money on studio costs, but also instills confidence and pride in the artist.
Katherine draws on her many years of experience to help students find their unique voice and realize their full potential.
Katherine loves her work and is a devoted teacher who is very committed to meeting her students' vocal and production needs.
Book a lesson with Katherine today!